Talk to an Expert: 6 Common Battery Test Chamber Questions Answered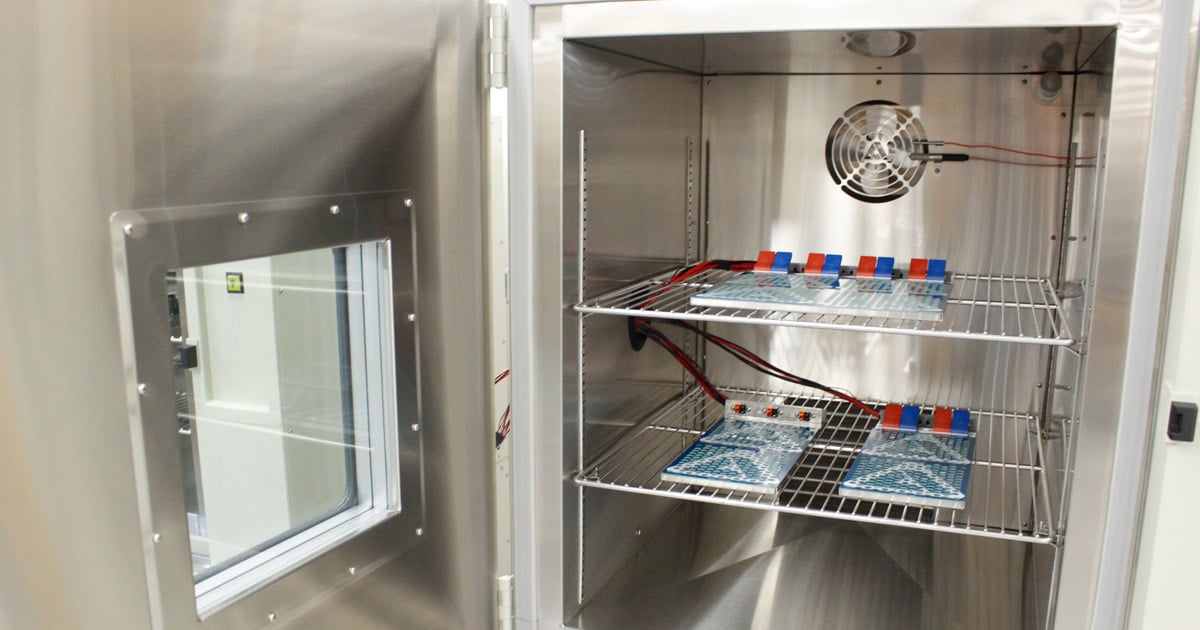 Every company's battery testing situation is a little bit different. Some companies have specific goals, requirements, equipment, and lab space that is particular to their testing needs that may not work quite as well for others.
However, what is shared is the drive to test efficiently, effectively, and safely. That's easier said than done. It helps to have a trusted manufacturer on your side, someone to bounce questions off to find the chamber or battery testing fixture that's right for you. We have you covered as a starting point.
Here are just a few frequently asked questions our experts receive about battery test chambers.
1. What Is the Difference Between My Battery Testing Fixture and a Battery Test Chamber?
While battery test chambers are optimized for battery testing, fixtures can be put into nearly any humidity and temperature chamber.
Although some companies choose to build their own fixtures testing, it is worth investing in your own battery test chamber or fixture because it can be more cost-effective. Constructing a fixture takes time, effort, money, and can be very dangerous.
Alternatively, buying an efficient battery testing fixture means you can confidently adapt it to a pre-existent chamber, knowing it's been built by experienced engineers with user experience in mind, allowing for added safety features, as well.
AES offers three options at the moment as part of our patent-pending ATP series, but we are constantly expanding our battery testing solutions. ATPPRIME is a test chamber specifically configured for testing nearly all battery cell types, ATPHEAVY is built for testing up to 1000-amp batteries, and ATPFLEX is a fixture that can be added to existing test chambers (regardless of manufacturer).
2. What Is the Maximum Amperage I Can Use to Test My Batteries?
While most base models can test up to 20 amps per channel, Associated Environmental Systems has recently designed a chamber capable of testing up to 1000-amp batteries. Before purchasing a chamber or fixture, you should consult a battery specialist about your amperage needs and what's possible. They'll help you find the battery testing solution that's right for you.
3. How Many Cells Can I Test at One Time?
It may vary by manufacturer and depends on the battery type.
For instance, an ATPPRIME with four shelves provides the following capacities:
192 coin cells, with 48 channels per shelf
48 pack cells, with 12 channels per shelf
64 pouch and cylindrical cells, with 16 channels per shelf
Notably, these chambers are also stackable, allowing for double and triple the cell count in the same amount of lab space.
As battery testing evolves, there is always a need for different battery solutions. This can include adding more channels per shelf or adding more shelves. Make sure you consult a battery testing expert to understand your testing needs and find the right solution.
4. Are There Any Preventative Measures to Combat a Thermal Event While Testing My Batteries?
Battery test chambers have standard and optional safety features that will significantly diminish thermal incidents in your testing. Depending on the configuration of your chamber, the clips are adjustable to leave ample room between cells in order to mitigate propagation. We encourage you to speak directly with your manufacturer and building management about any safety concerns.
5. What If I Already Have a Battery Cycler?
Your cycler can communicate with a battery fixture via the chamber's API endpoints so long as both are connected to a network (often through an ethernet cable).
If you don't have a battery cycler and are already working with Associated Environmental Systems, AES will coordinate with its partner, Maccor, to get one.
6. Will I Be Able to Monitor the Test Remotely?
Yes! AESONE CONNECT software gives you the ability to monitor and configure tests from anywhere you have internet access by either tablet or computer.
AESONE is standard on AES battery chambers and can be retrofitted on existing chambers.
The software is designed to give you the ability to monitor tests remotely, but also operate the test chamber and build profiles for future tests.
AESONE CONNECT delivers real-time data collection throughout testing, giving you the ability to stop a test as soon as an error is detected.
---
While there are many factors to consider, your testing requirements, products, and lab space, will ultimately determine which battery fixture or chamber you'll need.
This is why it's so important to work with an experienced manufacturer. AES offers service plans, support, and even consultation on making battery testing more efficient with a better lab layout. It's all part of the conversation to get you testing more effectively and driving innovation in your industry.
Should you have more questions about battery testing, contact us today.