Your Guide to Benchtop Chambers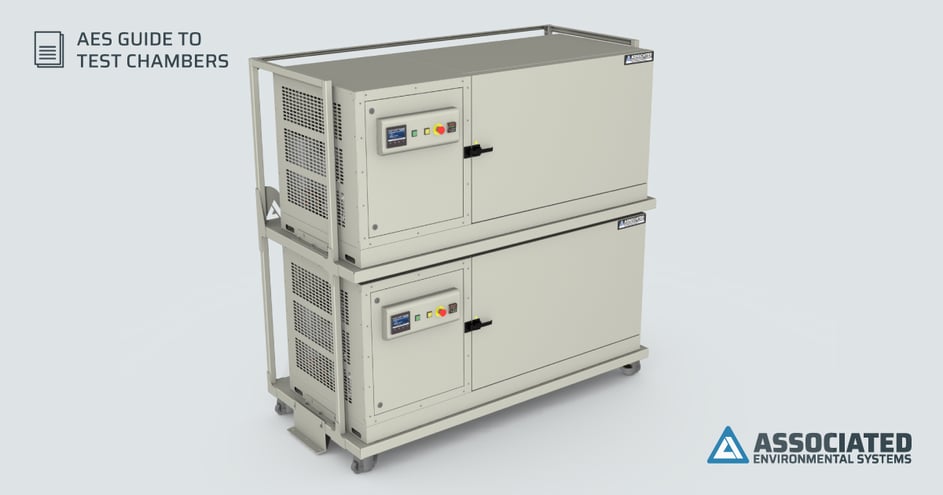 Environmental chambers are available in a range of sizes and performance capabilities. Companies often turn to benchtop chambers for testing solutions. Whether it's due to the smaller size of the components you're testing or optimizing lab space, these chambers may be right for your needs as well.
Here's an overview of what benchtop chambers are, their uses, advantages, and how you may also benefit from an expert lab design consultation.
What Are Benchtop Chambers?
A benchtop chamber is an environmental test chamber designed to sit on easy-to-access shelves, tables, and countertops. Some models can even be stacked to maximize limited floor space in your lab.
Benchtop chambers can be used for battery testing, temperature cycling, stability testing, and a wide variety of product testing, just to name a few of their functions. They are available in temperature-only chambers, temperature and humidity chambers, laboratory and liquid-cooled ovens, and salt spray chambers.
They also tend to have anywhere from 1 to 13 cubic feet of internal space, making them optimal for testing smaller components or devices under testing (DUTs).
Benchtop Humidity Chambers
The term 'benchtop chamber' often refers to temperature or humidity models. Let's first consider benchtop humidity chambers. As you may surmise, temperature and humidity benchtop chambers enable you to test products in controlled temperature and humidity conditions.
Temperature and humidity benchtops, available with workspace volumes from 1.37 to 12.95 cubic feet, can reach temperatures from -37°C to 180°C (-34.6°F to 356°F).
Typically, humidity chambers utilize vapor generator systems to give you precise control over the humidity conditions. The standard humidity range is 10% relative humidity (RH) to 95% RH.
The vapor generator system is a closed stainless steel or copper tube. An element heats a constant water source creating vapor or steam that travels through the tube and mixes with conditioned air in a plenum before moving into the workspace. Notably, this water source must be treated and demineralized to avoid contaminating the test.
You can expand the standard humidity range with optional features. High humidity sensors enable you to control humidity conditions up to 98% RH, while you can reach extremely dry air conditions with nitrogen purges, dry-air purges through desiccant air dryer, or a recirculating desiccant air dryer.
Certain benchtop humidity chambers are designed with steady-state testing in mind, such as the LH Series. Other models enable high-performance testing or cycling. The SCH Series, which features the most powerful benchtop humidity chambers in the world, can be optimized for battery testing.
A standard benchtop humidity chamber costs around $14,700 but varies significantly based on size, model, performance, and optional features.
Benchtop Temperature Chambers
Temperature-only benchtop chambers have workspace volumes ranging from 1.01 to 12.95 cubic feet and accommodate temperatures ranging from -37°C to 180°C (-34.6°F to 356°F).
You can expect benchtops to achieve controlled temperatures within ±0.5°C, facilitated by open ceramic-core nichrome heaters and a self-contained, compact, mechanical, single-stage refrigeration cooling system.
Although benchtops don't often have the same power or performance capabilities of larger units, some blend the advantages of a tabletop with those of a large test chamber, such as the SC-508. Also known as the Super 508, this benchtop temperature chamber is designed to integrate with battery testing fixtures, including the high-amperage batteries electric vehicles require.
Our battery-optimized chambers interface with ATPPRIME and ATPHEAVY and accommodate just about any cell type, including prismatic, cylindrical, and pouch.
Temperature-only benchtop chambers typically start at just under $14,000 for the smallest models.
The Benefits of Benchtop Chambers
Benchtop chambers offer more than just convenience. They permit you to scale up according to your own timeframe, maximize floor space, and boost testing efficiency.
Scale Up On Your Own Time
Because of their smaller footprint and stackability, benchtop chambers offer room for controlled expansion. They enable you to grow your operation when you're ready. Let's say you expect your testing requirements to increase significantly over a multi-year period. Rather than purchase a large chamber up front, you can spend less money on a benchtop chamber and stack on it as your testing needs expand.
Super Efficient
Another big advantage of benchtop chambers is efficiency. Large chambers accommodate more products at once, but benchtop models allow you to spread out loads. Think of waiting for 75 devices to come off the line to fill a workspace versus rotating 25 at a time. You keep the smaller chambers conditioned for each batch and complete the same amount of testing in a shorter period of time.
Furthermore, you can more easily isolate incidents should you have an issue while testing. Rather than compromise a much larger batch of DUTs, you have a much smaller number affected. You can address the issue and return to testing without having to retest as many DUTs.
Maximize Floor Space
As noted above, benchtop chambers can be stacked, meaning you're able to run several different tests using the same amount of floor space. Or you can position a unit on a nearby table or workstation without having to utilize any more floor space at all.
Benchtop chambers are designed to fit up to three chambers high to maximize floor space. Just because you have a small or somewhat crowded lab doesn't mean you can't expand your testing.
Optimizing Lab Space With the Help of AES
It's one thing to purchase benchtop chambers. It's quite another to take full advantage of their benefits. It certainly helps to enlist the support of an expert. After all, you may have questions as you look to bring benchtop chambers to your lab: How do you best use the space available? How can you plan for expansion? How do you best account for power requirements and water sourcing? What about local codes, maximized spacing, and proper safety measures?
A great deal of research, discussions, and resources goes into effectively laying out the design of your lab, and it can feel overwhelming if your team has never really done it before. It's a truism that optimized testing begins with optimized lab space.
Fortunately, Associated Environmental Systems (AES) not only manufactures industry-leading benchtop chambers, but we also have a team of experts willing to collaborate with you on setting up your lab design for success. AES can install chambers and provide direction on major design considerations, from necessary spacing between chambers to account for performance and employee movement and power requirements, to safety measures and HVAC systems.
In collaboration with you, we will provide a project scope, hold meetings as needed to discuss the project, provide advice regarding building requirements and local codes, counsel on safety considerations, and establish a service plan with one of our team members stationed across the United States.
AES works in nearly every commercial industry, so we know what it takes to meet your testing requirements. So whether you're looking to purchase a benchtop chamber or reconfigure your lab layout, our team of seasoned experts is ready to guide and support your environmental testing efforts.
AES has been designing and manufacturing environmental test chambers for more than 60 years. Contact us today to learn more about benchtop chambers and whether they're the right testing solution for your lab.