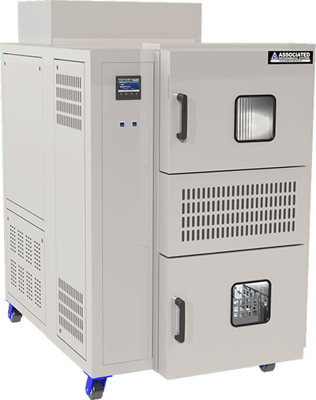 SM-2102T
Floor
When your product needs to be tested for immediate temperature changes between hot and cold repeatedly, consider a thermal shock test chamber. The SM Series test chamber makes it possible to quickly and autonomously transfer test specimens back and forth.
Used often for the testing of electronics and electronic components in automotive, aerospace and defense industries. With the popularity growth of portable and handheld devices that face extreme outdoor conditions, the use of the SM-2102T has expanded into new industries.
To achieve the rapid change in temperature, your product sits in a pneumatically-controlled basket that travels vertically between two zones within seconds. The exterior chamber construction includes a powder-coat finish over heavy-gauge steel and type 304 stainless steel on the inside. Sandwiched between is a layer of highly-efficient, low K factor, thermal insulation for the highest efficiency and temperature performance.
Each compartment holds your desired temperature with a heated zone and a cold zone. The specially designed basket is a traveling workspace with its own sensor so you can monitor not only the environmental condition in each zone but also the temperature of the specimen and recovery time. When you need to cool your specimen even faster, an optional liquid LN2 or CO2 boost can be added. View a video of the SM Series Thermal Shock Chamber in action here.
A third zone can be added between the hot and cold zones for ambient temperature exposure.
Cooling differences between 2100 models and 1900 models
2900 models are cooled with a cascade mechanical refrigeration system. An LN2 boost option can be added to cool even faster.
1900 models use liquid nitrogen to reach cold temperatures. There is no mechanical refrigeration.
The most common thermal shock tests incorporate MIL-STD-883K and MIL-STD-202H, and the SM Series test chamber can achieve all of the tests required under these two test conditions. See the typical application tab below for detailed information about reaching these test standards in a SM Thermal Shock Test Chamber.
INSTRUMENTATION. SM-2102T Test Chamber incorporates AESONE CONNECT creating a robust connected device giving you a standard and uniform interface that makes operation easier. Learn more in the Instrumentation Tab below.
Contact us for quote

Applications
Specifications
Standard Features
Instrumentation
Safety Features
Optional Features
Downloads
Videos
Applications
MIL-STD 883K Method 1010.9
The images below specify the test conditions the SM Thermal Shock test chamber can achieve under the military and aerospace conditions to adhere to the uniform method for thermal shock testing of microelectronic devices within electronic systems. These devices include monolithic, multi-chip, film and hybrid microcircuits, microcircuit arrays, and the elements from which the circuits and arrays are formed.



MIL-STD 202H Method 107
SM Thermal Shock test chambers are designed to meet Method 107 test conditions A, B, and F when testing electronic and electrical component parts such items as capacitors, resistors, switches, relays, transformers, inductors, and such at weights of 10 or 5 pounds, see images below.
The test method should apply only to small component parts, weighing up to 300 pounds or having a root mean square test voltage up to 50,000 volts unless otherwise specified.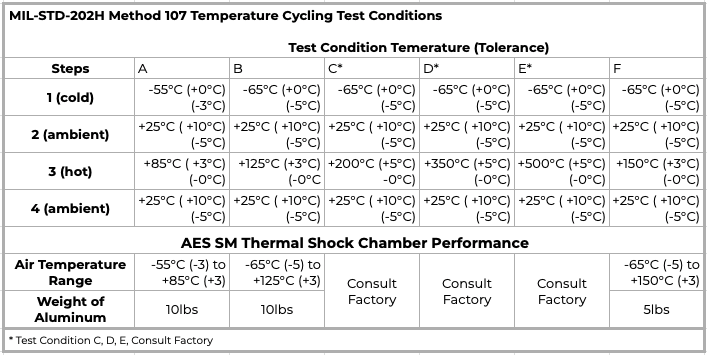 Specifications
SM Series
---
---
Carriage Dimensions:
12W x 12D x 12H (in)
304.7W x 304.7D x 304.7H (mm)
Basket Dimensions:
9.5W x 11.7D x 2H (in)
241.3W x 297.1D x 50.8H (mm)
Exterior:
48.0W x 67.0D x 72.0H (in)
1219.2W x 1701.8D x 1828.8H (mm)
Volume:
1.00 cubic ft
Hot Zone Temperature:
Above Ambient* to +200ºC (Above Ambient* to +392ºF)
Cold Zone Temperature:
-65ºC to +121ºC (-85ºF to +250ºF)
Thermal Load Capacity:
5.0 lbs
2.28 kg
Temperature:
-70°C to

200°C (

-94°F to 392°F)
Electrical Supply:
208 VAC, 3 PH, 60 HZ
Full Load Amps:
50 A
Power Requirement:
Hardwired
Refrigeration System:
Cold Zone: Cascade mechanical refrigeration, Hot Zone: No active cooling
Mobility:
Will fit through 62 in doorway
Approximate Product Weight:
970.0 lbs (440 kg) without added options
Approximate Shipping Weight:
745.0 lbs (338 kg) without added options
*Rise and pull-down rates calculated using IEC 60068-3-5 standard. Custom options available.
Standards
MIL-STD 883 K
MIL-STD 2020H

Basket Weight by Test Method

Tests A, B: 15 lbs (6.8 kg)

Tests C: 10 lbs (4.54 kg)

Test D: Consult Factory

Tests E: 5 lbs (2.3 kg)

Tests A, B: 10 lbs (4.54 kg)

Tests C, D, E: Consult Factory

Tests F: 5 lbs (2.3 kg)
Hot zone minimum achievable temperature is ambient plus +40ºC to +50ºC (+104ºF to +122ºF), variability based on ambient room conditions, cold zone temperature, DUT load, etc.
Standard Features
STANDARD FEATURES
Temperature Range

Upper workspace is heat only from ambient* to +200ºC (ambient* to +392ºF)
Center workspace is ambient**
Lower workspace has cascade mechanical refrigeration -70ºC to +121ºC (-94ºF to +249.8ºF)

Exterior cabinet: cold-rolled steel, heavy-gauge, powder coat, bone color, textured matte finish
Interior cabinet: stainless steel, type 304
2 independent cold and hot chambers with separate doors
Forced air circulation
Air-cooled cascade mechanical refrigeration system
Automatic pneumatic product transfer with stackable baskets
Port configuration: one top traveling port, with 2 in (50.8 mm) diameter
Swivel brake casters
Three-zones: hot over cold with ambient center
Load capacity 5lbs.
Instrumentation
STANDARD INSTRUMENTATION
CONTROLLER
SM Series Test Chambers have incorporated AESONE CONNECT creating a robust connected device for a standard and uniform interface making test chamber operation easier.
AESONE XCHANGE is hardware internal to the chamber that increases your functionality
Connects the test chamber controller to your network for increased accessibility
On-board multi-year data logging
AESONE SOFTWARE gives you the power to
Remote chamber operation and monitoring,
Web-based test profile creation,
Viewing current data and historical data visually
Secure multi-level user access
ADDITIONAL ONBOARD INSTRUMENTATION
WATLOW F4T PROGRAMMABLE CONTROLLER. Features a 4.3" capacitive touchscreen minimizing the chance for error. Ethernet communication supported by AESONE HARDWARE. View more controller options
SENSORS.
TEMPERATURE SENSOR. Measured at the point of airflow entering the workspace. Class A, 3-wire, 100 Ohm Platinum RTD sensor
OPTIONAL DATA LOGGERS. View additional data loggers
Safety Features
STANDARD SAFETY FEATURES
HIGH/LOW TEMPERATURE CONTROL. An adjustable temperature limit controller allows you to program the highest lowest and temperature of the device under test, protecting products from compromising temperature exposure.
Automatic Carriage Power Interruption When Doors are Open
Internal high-temperature limit safety
TUV Rheinland certified meeting UL 508A, US, C, E
Optional Features
Ambient Exposed Middle Compartment
Additional Basket
Window in Door(s)
Internal Vapor Proof Light(s)
LN2 Boost Cool
CO2 Boost Cool
Desiccant Air Dryer to ensure conditions as low as 5% RH
Dry Nitrogen Purge to keep condensation and frost from accumulating on DUT surfaces at cold temperatures and to prevent oxidation of metals surfaces at high temperatures
Downloads
Videos