What Is the Price of a Humidity Chamber?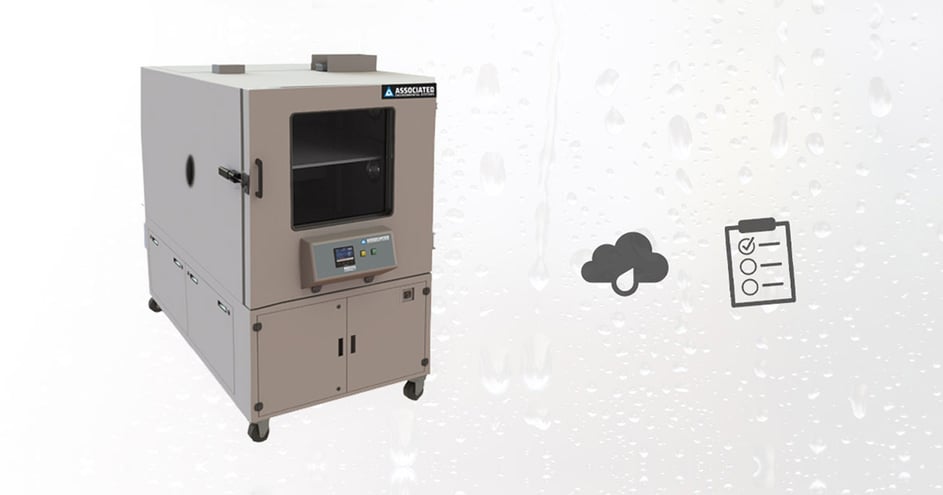 No product works perfectly in all climates or weather conditions. However, environmental testing can reveal a product's limits and long-term durability—and gives you the reassurance that it's ready for commercial or public use.
Companies conduct testing to observe how devices under testing (DUTs) react to specified conditions, as determined by different standards. These standards often feature humidity components, which is where optimized humidity test chambers come in.
Humidity chambers are utilized by a variety of industries including life-saving medical devices, automobiles, aerospace, telecommunications, solar energy, packaging, and more.
Having said that, no two companies' testing requirements are the same. Therefore, when searching for a new humidity chamber, it's important to first completely understand your own requirements.
As a good rule of thumb, a quality, standard humidity chamber ranges between $14,000-$20,000. This is often a base price that increases (sometimes significantly) with size considerations, performance levels, optional features, and customizations. Be sure to work with a manufacturer that can build a humidity chamber fit to your specific needs.
Here's what you need to know about what that base price gets you.
About Standard Humidity Chambers
If you target a humidity chamber in the neighborhood of $15,000, here's what you can expect.
First, let's talk about size. Typically, any chamber greater than 10 cubic feet in volume will cost more than $20,000. At a standard price, expect to have a range of options from as small as 1.3 cubic feet and as large as 8 cubic feet.
Keep in mind that smaller benchtop chambers can often be stacked, enabling you to maximize your floor space. Purchasing a benchtop has many benefits.
Standard humidity chambers feature modern vapor generator systems. Consisting of an enclosed stainless steel or copper tube, contact between the vapor generator's heat element and a water source produces the steam that creates humid conditions. This vapor combines with conditioned air before traveling into the workspace to give you specified temperature and relative humidity levels. These levels are monitored by electronic sensors.
Standard humidity chambers are well-tuned for reliability, capable of producing and measuring a relative humidity (RH) range between 20% to 95% (±2% precision), with dehumidification coils helping the interior workspace reach humidity levels closer to 10% RH.
These chambers are intended to need little maintenance while enabling you to run long-term tests at a constant, steady-state temperature and humidity.
Optional Features: High Humidity Sensors, Dry Nitrogen Purges, And More
Now, let's say your humidity requirements fall outside the standard range. You can use Associated Environmental Systems' Dew Point Calculator to determine whether or not you'll need one of these optional features:
High Humidity Sensors let you measure humidity as high as 98% RH.
And if you need to test in extremely dry conditions you can do so in one of three ways:
Dry Air Purge Through Desiccant Air Dryers can achieve humidity as low as 5% RH. It compresses air through a desiccant system, absorbing the moisture before it moves into the workspace.
Dry Nitrogen Purges prevent condensation and frost from accumulating on DUT surfaces at colder temperatures by forcing out the moisture-heavy air. This also prevents the oxidation of metals at high temperatures.
Recirculating Desiccant Air Dryers are a more feasible option for larger chambers. Air is circulated through a desiccant system and then returned to the chamber, often cycled through a honeycomb wheel that releases captured moisture into the external workspace.
All add to the price of the chamber since they require customization, but they're not the only considerations. After all, humidity may be just one component of your testing requirements. If you need to conduct temperature cycling with fast change rates, you'll need a chamber with power to make that testing possible.
And if you're testing batteries, you could opt for a humidity chamber optimized for this purpose. It may cost you more than building your own battery testing fixture, but it's safer, more efficient, and produces repeatable results.
The Importance of an Experienced Test Chamber Manufacturer
Filtering by price is a common-sense starting point when searching for humidity chambers. However, be sure to go beyond initial costs before committing to a purchase. Work with a manufacturer you trust that can help you get the most out of your chamber.
Remember, your testing requirements will inform the chamber size, performance levels, and optional features you'll need to meet your company's needs. There isn't a one-size-fits-all solution.
A final consideration is making the purchase last. A well-maintained chamber remains operational for 10 years or more. So couple any purchase with a service plan and think about how paying for quality will deliver a stronger ROI over time.
The more research you put into the buying process, the greater chance you'll land a humidity chamber that gets you effective, efficient, and accurate results.
Associated Environmental Systems carries humidity chambers from small benchtop models to custom walk-in chambers. AES has also introduced escalating performance on all humidity chambers in the HD series.