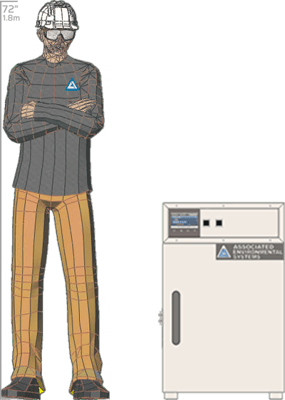 BD-102
Benchtop
The BD-102 Model is a liquid-cooled laboratory oven capable of providing highly-stable, controlled, forced hot air circulation with rapid cooling using liquid LN2 or CO2.
BD-100 Model Laboratory Ovens provide dry, air-circulated heat as an environmental testing condition. The ability to maintain precise temperatures occur with help from direct, drive-powered fans.
CONSTRUCTION. These liquid-cooled laboratory ovens feature a durable powder-coat finish over heavy-gauge steel, with stainless steel internal construction, and highly-efficient, low K factor, thermal insulation, this is built to last for many years.
CIRCULATION SYSTEM. The performance level operates the internal workspace temperature from approximately -73°C to +220°C (approximately -100.4°F to +428°F).
HEATING SYSTEM. The oven features an industry-leading heating system equipped with low-watt density, ceramic core, nichrome heaters for accurate temperatures within ±0.5°C, as measured at the sensor.
RAPID COOLING. Liquid cooling will bring a hot oven down to ambient conditions and as low as -73°C (-100°F) in just a couple of minutes. Pull-down rates for the liquid cooling process are much faster than traditional test chamber mechanical refrigeration.
BD Series Laboratory Ovens are ideal for:
aging
baking
curing
drying
sterilizing
and more.
If rapid cooling is not a requirement, take a look at the BD-900 Models.
INSTRUMENTATION. The standard BD models have a manual-set digital controller. For more sophisticated test profiles, upgrade incorporates AESONE CONNECT creating a robust connected device giving you a standard and uniform interface that makes operation easier. Learn more in the Instrumentation Tab below.
Specifications
Standard Features
Instrumentation
Safety Features
Optional Features
Downloads
Specifications
BD Series
---
---
Interior:
16.0W x 16.0D x 16.0H (in)
406.4W x 406.4D x 406.4H (mm)
Exterior:
23.6W x 28.8D x 32.1H (in)
599.5W x 731.6D x 815.4H (mm)
Volume:
2.37 cubic ft
67.11 liters
Temperature:
-73°C to

220°C (

-99.4°F to 428°F)
Rise Rate*:
4.88°C/min
Pull Down Rate*:
8.0°C/min
Electrical Supply:
120 VAC, 1 PH, 60 HZ
Full Load Amps:
14 A
Power Requirement:
NEMA 5-15
Refrigeration System:
Liquid cooled-no mechanical refrigeration
Mobility:
Will fit through 36 in doorway
Approximate Product Weight:
235.0 lbs (107 kg) without added options
Approximate Shipping Weight:
345.0 lbs (156 kg) without added options
*Rise and pull-down rates calculated using IEC 60068-3-5 standard. Custom options available.
Standard Features
STANDARD FEATURES
Temperature Range: -73°C to +220°C (-99.4°F to +428°F)
Exterior cabinet: cold-rolled steel, heavy-gauge, powder coat finish, color: bone
Interior cabinet: stainless steel, type 304
Cooling type: LN2 (Standard 40 PSI)
Forced air circulation
Port configuration: left side port and plug with 3in (76.2mm) diameter
Port configuration: right side port and plug with 3in (76.2mm) diameter
Fully adjustable shelf, 1 wire-grid shelf, stainless steel
Fully opening door, manual door latch
Instrumentation
STANDARD INSTRUMENTATION
CONTROLLER
Temperature is manually set with one Watlow EZ-ZONE PM controller (non-programmable)
UPGRADE WITH
BD Series Test Chambers can incorporate AESONE CONNECT creating a robust connected device for a standard and uniform interface making test chamber operation easier.
AESONE XCHANGE increases your functionality
Connects the test chamber controller to your network for increased accessibility
On-board multi-year data logging
AESONE SOFTWARE gives you the power to
Remote chamber operation and monitoring,
Web-based test profile creation,
Viewing current data and historical data visually
Secure multi-level user access
WATLOW F4T PROGRAMMABLE CONTROLLER. Features a 4.3" capacitive touchscreen minimizing the chance for error. Ethernet communication supported by AESONE HARDWARE. View more controller options
ADDITIONAL ONBOARD INSTRUMENTATION
SENSORS. 100 OHM Platinum RTD is a highly-accurate sensor made from platinum components for increased sensitivity View sensor options
Safety Features
STANDARD SAFETY FEATURE
HIGH/LOW TEMPERATURE CONTROL. An adjustable temperature limit controller allows you to program the highest lowest temperature the device under test, protecting products from compromising temperature exposure.
Optional Features
Shelf Modification
Custom Porting Sizes
Cooling Type: CO2 1,000 PSIG (300 PSI available on request)
CO2 scrubber with replaceable cartridge, for 1,000 PSIG only
Additional Blank Door
Desiccant Air Dryer to ensure conditions as low as 5% RH
Gas Purge compatible with Dry Nitrogen (GN2) & Compressed Dry Air (CDA)
Floor Stand w/ Casters
Downloads