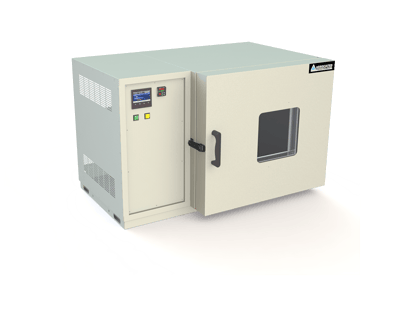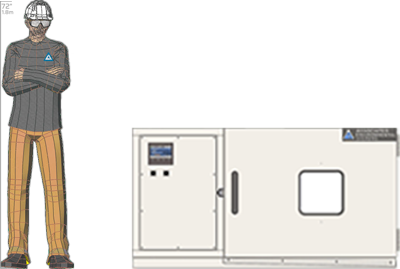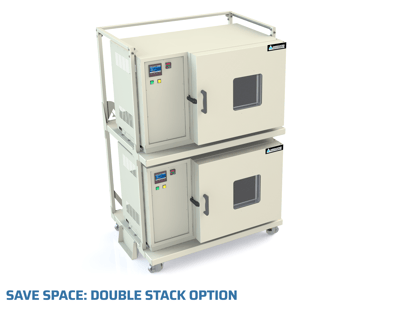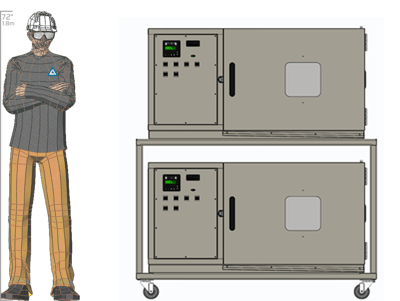 BHD-508-ATP
Benchtop
Rack and Stack
The BHD-508-ATP is a benchtop-style environmental test chamber for temperature and humidity testing. The chamber is specifically designed with rear wall ports to connect your battery cables to your cycler. The BHD-508-ATP can seamlessly integrate with our ATP® (All Test Platform) battery testing fixtures.
If you are concerned about losing your lab counter space, this test chamber has an optional floor stand for one chamber or get double the test workspace when you stack two BHD Test Chambers in the same footprint.
STRUCTURE. The internal workspace is lined with type 304 stainless steel for a vapor-tight internal construction. Two specialized ports allow for cable patches to feed through the back of the test chamber workspace and easily connect to your battery cycler test equipment.
The exterior has a durable powder-coat finish over heavy-gauge steel for a long-lasting clean look. Between the two layers is highly-efficient, low k-factor, thermal insulation. This chamber is built to last for many years.
CIRCULATION SYSTEM. Air circulation is crucial for environmental testing. The BHD-508-ATP Test Chamber has a proprietary baffle and fan design combination. This optimizes temperature conditions within the workspace for the ATPPRIME battery fixture.
HEATING SYSTEM. BHD test chambers feature heating systems equipped with open ceramic-core nichrome heaters for reliable and accurate temperature control within ±0.5°C.
HUMIDITY SYSTEM. The humidity system has a standard range between 10% and 95%. To extend your humidity range, see the optional features section. View RH Chart.
COOLING SYSTEM. The cooling system in the BHD-508-ATP consists of a self-contained, compact, single-stage, mechanical refrigeration system with an air-cooled condenser. An optional water cooling condenser is available.
Add boost cooling with liquid LN2 or CO2 to shorten pull-down times; it's a great option for stress tests that require rapid cooling.
INSTRUMENTATION. BD-508-ATP Test Chamber incorporates AESONE CONNECT® creating a robust connected device giving you a standard and uniform interface that makes operation easier. Learn more in the Instrumentation Tab below.
Buy $22,962 (base price)
Rental $2,200/month
Specifications
Standard Features
Instrumentation
Safety Features
Optional Features
Downloads
Videos
Dew Point Calculator
Specifications
BHD Series
---
---
Interior:
24W x 24D x 24H (in)
609.5W x 609.5D x 609.5H (mm)
Exterior:
53.5W x 40D x 35H (in)
1358.9W x 1016D x 889H (mm)
Volume:
8 cubic ft
226.53 liters
Temperature:
-37°C to

180°C (

-34.6°F to 356°F)
Humidity:
10-95% RH, limited by +4°C Td (for 98% add option)
Humidity Fluctuation:
±2% RH at sensor
Rise Rate*:
5°C/min
Pull Down Rate*:
4°C/min
Electrical Supply:
208 VAC, 1 PH, 50HZ or 60HZ
Full Load Amps:
25 A
Power Requirement:
Non-NEMA L6-50 Plug
Refrigeration System:
Single stage
Mobility:
Will fit through 48 in doorway
Approximate Product Weight:
600 lbs (272 kg) without added options
Approximate Shipping Weight:
695 lbs (315 kg) without added options
*Rise and pull-down rates calculated using IEC 60068-3-5 standard. Custom options available.
Standard Features
STANDARD FEATURES
Temperature range: -37°C to 180°C (-34.6°F to +356°F)
Mountable on reinforced cart with swivel brake casters and floor anchors
Exterior structure is heavy-gauge, cold-rolled steel with powder coat bone color and matte finish
Interior cabinet: stainless steel, type 304
Interior light with exterior switch on cabinet face and operable on AESONE CONNECT®
Port configuration: Two rear wall access port and plug with 4in (101.6mm) diameter
Fully adjustable shelf, 1 wire-grid shelf, stainless steel
Forced air circulation
Gas purge control compatible with GN2 Purge and Dry Air Purge
Multipane 12 in x 12 in heated viewing window
Full opening door with adjustable manual latch
Instrumentation
STANDARD INSTRUMENTATION
CONTROLLER
BHD Series Test Chambers have upgraded to include AESONE CONNECT® creating a robust connected device for a standard and uniform interface making remote monitoring easier.
AESONE XCHANGE is hardware internal to the chamber that increases your functionality
Connects the test chamber controller to your network for increased accessibility
On-board multi-year data logging
AESONE SOFTWARE gives you the power to
Remote chamber operation and monitoring,
Web-based test profile creation,
Viewing current data and historical data visually
Secure multi-level user access
ADDITIONAL ONBOARD INSTRUMENTATION
WATLOW F4T PROGRAMMABLE CONTROLLER. Features a 4.3" capacitive touchscreen minimizing the chance for error. Ethernet communication supported by AESONE HARDWARE. View more controller options
SENSORS.
TEMPERATURE SENSOR. Measured at the point of airflow entering the workspace. Class A, 3-wire, 100 Ohm Platinum RTD sensor
RELATIVE HUMIDITY SENSOR. Measured at the point of airflow entering the workspace. Speed of airflow does not affect measurement. Sensor is highly accurate between 10-95% RH, over the entire temperature operating range of -40°C to +180°C (-40°F to +356°F)
OPTIONAL DATA LOGGERS. View additional data loggers
Safety Features
STANDARD SAFETY FEATURES
HIGH/LOW TEMPERATURE CONTROL. An adjustable temperature limit controller allows you to program the highest and lowest temperature of the device under test, protecting products from compromising temperature exposure.
Over Temperature Heat Fusing
Refrigeration system over-pressure safety circuit
Low-water steam generator over-temperature circuit
TUV Rheinland certified meeting UL 61010-1, US, C, E
Optional Features
OPTIONAL FEATURES
Custom Porting Sizes
Custom window size
Heater for Window
LN2 Boost Cool
CO2 Boost Cool
Self Contained Water Recirculating System
Water Demineralizer Cartridge System
High Humidity Sensor to extend the humidity range up to 98% RH
Desiccant Air Dryer to reach conditions as low as 5% RH
Floor Stand with Casters
Stackable Test Chamber Stand with Casters
Downloads
Videos
Dew Point Calculator
Dew Point Calculator
Input your values and press calculate to see results.