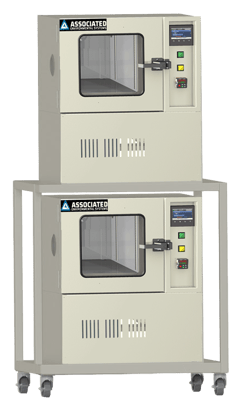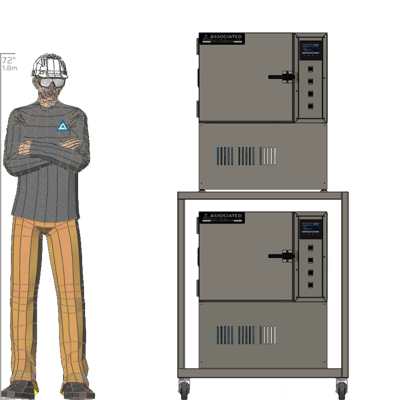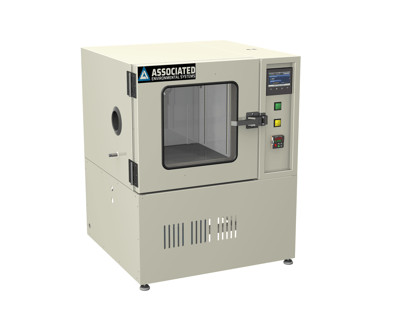 LH-1.5-B
Benchtop
Rack and Stack
The LH-1.5 is a dynamic test chamber known for its ability to run unparalleled tight temperature and humidity control.
The test chamber is designed for minimal maintenance. Run long-term tests at a constant, steady-state temperature and humidity, or cycle testing with well-tuned reliability.
LH-1.5 model is a compact laboratory benchtop environmental test chamber. It's known for its exceptional ability to tune into and control temperature and humidity performance, within -20°C to +94°C (-4°F to +201.2°F) and 10% RH to 95% RH.
LH-1.5 test chambers feature heating systems equipped with open ceramic-core nichrome heaters for reliable and accurate temperature control within ±0.5°C.
The humidity system has a standard range between 10% RH and 95% RH. To extend your humidity range, see the optional features section. View RH Chart.
The cooling system in an LH-1.5 consists of a self-contained, compact, mechanical, single-stage refrigeration system.
The LH-1.5 can be fitted onto an optional floor stand to increase mobility and lab testing flexibility. A stackable floor stand allows for two chambers in the same footprint. You save valuable lab space, gain more test workspace, or can run independent tests concurrently.
LH Series Test Chambers have incorporated AESONE CONNECT instrumentation creating a robust connected device for a standard and uniform interface making operation easier. Learn more in the Instrumentation Tab below.
Buy $35,881 (base price)
Rental $4,600/month
Specifications
Standard Features
Instrumentation
Safety Features
Optional Features
Downloads
Videos
Dew Point Calculator
Specifications
LH Series
---
---
Interior:
14.0W x 13.0D x 13.0H (in)
355.5W x 330.2D x 330.2H (mm)
Exterior:
33.0W x 31.68D x 76.6H (in)
838.2W x 804.7D x 1945.7H (mm)
Volume:
1.37 cubic ft
38.79 liters
Temperature:
-20°C to

94°C (

-4°F to 201.2°F)
Humidity:
10-95% RH, limited by +4°C Td (for 98% add option)
Humidity Fluctuation:
±2% RH at sensor
Electrical Supply:
110 VAC, 1 PH, 60 HZ
Full Load Amps:
15 A
Power Requirement:
NEMA 5-15
Refrigeration System:
Single stage
Mobility:
Will fit through 32 in doorway
Approximate Product Weight:
750.0 lbs (340 kg) without added options
Approximate Shipping Weight:
970.0 lbs (440 kg) without added options
Standard Features
STANDARD FEATURES
Temperature range: -20°C to 94°C (-4°F to +201.2°F)
Two LH-1.5 test chambers
Stackable stand, with chamber mounting provisions, includes 2 anchor brackets for mounting floor stand to facility floor
External cabinet construction consists of heavy-gauge, cold-rolled steel with powder coat, bone color, and textured matte finish
Internal workspace constructed with type 304 stainless steel
Full opening door with adjustable manual latch
Multipane 12 in x 12 in viewing window, no heat available
Interior light with exterior switch on cabinet face and operable on AESONE CONSOLE
Fully adjustable shelf, one wire-grid stainless steel shelf
Port configuration: left wall access port and plug with 3 in (76.2 mm) diameter
Gas inlet compatible with GN2 Purge and Dry Air Purge
Forced air circulation
Self-Contained Refrigeration System
Steam Generator Humidity System
Instrumentation
STANDARD INSTRUMENTATION
CONTROLLER
LH Series Test Chambers have upgraded to include AESONE CONNECT creating a robust connected device for a standard and uniform interface making test chamber operation easier.
AESONE XCHANGE is hardware internal to the chamber that increases your functionality
Connects the test chamber controller to your network for increased accessibility
On-board multi-year data logging
AESONE SOFTWARE gives you the power to
Remote chamber operation and monitoring,
Web-based test profile creation,
Viewing current data and historical data visually
Secure multi-level user access
ADDITIONAL ONBOARD INSTRUMENTATION
WATLOW F4T PROGRAMMABLE CONTROLLER. Features a 4.3" capacitive touchscreen minimizing the chance for error. Ethernet communication supported by AESONE HARDWARE. View more controller options
SENSORS.
TEMPERATURE SENSOR. Measured at the point of airflow entering the workspace. Class A, 3-wire, 100 Ohm Platinum RTD sensor
RELATIVE HUMIDITY SENSOR. Measured at the point of airflow entering the workspace. Speed of airflow does not affect measurement. Sensor is highly accurate between 10-95% RH, over the entire temperature operating range of -70°C to +180°C (-94°F to +356°F)
Solid-State Humidity Sensor
OPTIONAL DATA LOGGERS. View additional data loggers
Safety Features
STANDARD SAFETY FEATURES
HIGH/LOW TEMPERATURE CONTROL. An adjustable temperature limit controller allows you to program the highest and lowest temperature of the device under test, protecting products from compromising temperature exposure.
Over Temperature Heat Fusing
Refrigeration system over-pressure safety circuit
Low-water steam generator over-temperature circuit
TUV Rheinland certified meeting UL 61010-1, US, C, E
Optional Features
Additional wire-grid, stainless steel shelves and shelf clips
Custom port sizes
Custom window sizes available, speak with a sales team member
Water demineralizer cartridge system
Self-contained water recirculating system
High humidity sensor to extend the humidity range up to 98% RH
Desiccant air dryer to reach conditions as low as 5% RH
Dry nitrogen purge to keep condensation and frost from accumulating on DUT surfaces at cold temperatures and prevent oxidation of metal surfaces at high temperatures
Downloads
Videos
Dew Point Calculator
Dew Point Calculator
Input your values and press calculate to see results.