The AES Year in Review: Innovating Through 2022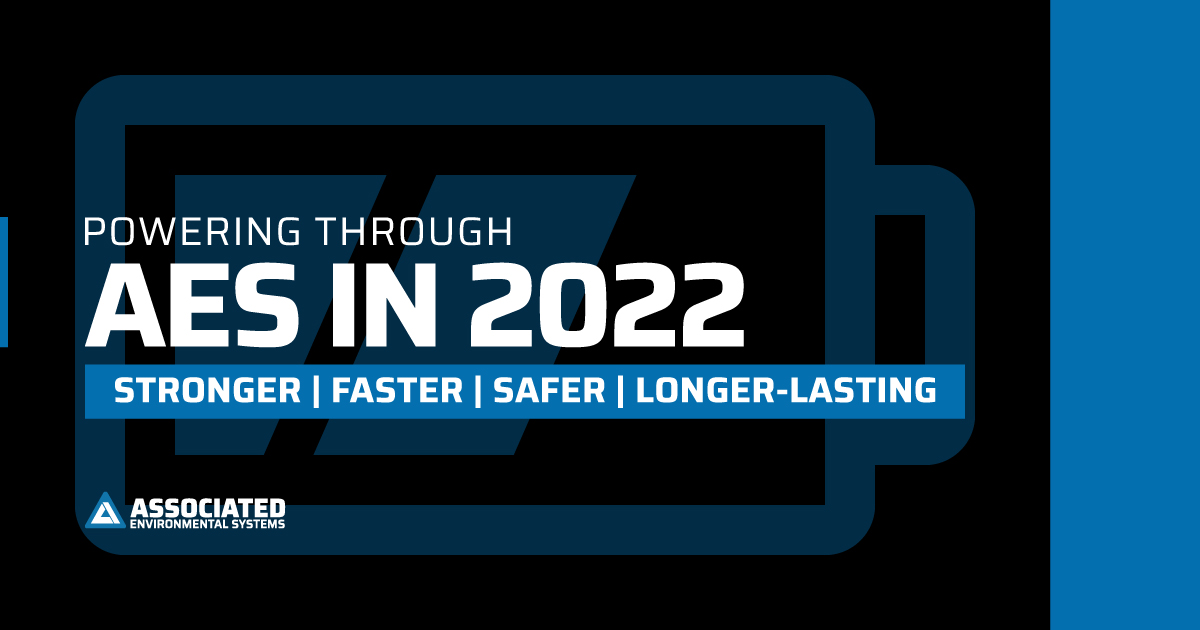 That's another year in the books, and we couldn't be more pleased with both our successes and those of our customers.
Before we shut the chamber door on 2022, let's revisit Associated Environmental System's (AES) newest technological innovations in battery testing, the fun we had at insight-packed trade shows, and some of our team's other accomplishments.
Company News
It's been a big year for AES with multiple environmental chamber and battery testing fixture rollouts—not to mention a patent.
ATPPRIME Patented
AES has long positioned itself as a leader in designing innovative battery testing fixtures. In fact, this year we were issued a patent for ATPPRIME. First introduced in 2018, ATPPRIME gives users the ability to charge and discharge batteries within conditioned workspaces, enhancing research, development, and production.
"The ATPPRIME patent further advances AES's differentiation from competition in the industry by setting the standard for cutting-edge battery testing fixtures," says Michael Shirley, CEO of Associated Environmental Systems. "We are excited to continue innovating testing solutions and can't wait to share what comes next."
Since introducing ATPPRIME, AES has expanded its battery testing offerings to include ATPFLEX, and ATPHEAVY, which enables high-amperage testing of up to 1000 amps per channel. Then, ATPHEAVY Adaptable arrived in 2022….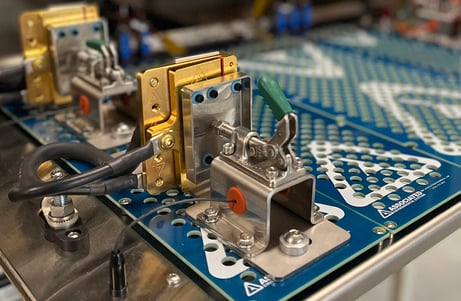 ATPHEAVY Adaptable
Building upon the success of our high-density battery fixture, ATPHEAVY, ATPHEAVY Adaptable provides flexibility to users. This unique battery fixture is designed to accommodate a wider range of large format battery cell types and sizes with moveable holders.
You're able to meet an extensive range of high-amperage testing needs in a single test chamber with this adjustable fixture.
The SC Series & SC-512
This year also saw the debut of a new benchtop chamber series.
We introduced the SC Series, building upon the success of the Super 508, the most powerful benchtop chamber in the world. To help labs optimize floor space and increase testing efficiency, this series features the high performance of a larger chamber with all of the advantages of a benchtop.
This series includes the SC-512, the 'bigger sibling' to the Super 508. Both chambers integrate seamlessly with ATPHEAVY and ATPHEAVY Adaptable, and, when equipped with AESSAFE, have leading safety features that promote safe, effective battery testing.
A New Laser
AES was fortunate enough to receive a grant from the Massachusetts Manufacturing Accelerate program (MMAP). This program has awarded more than $2 million dollars to 13 manufacturers from across the Commonwealth. MMAP aims to help Massachusetts-based, small- to medium-sized manufacturers prepare their businesses to meet the demands of Industry 4.0, and the manufacturing of new technologies and innovations that align with key industries.
This grant has enabled AES to purchase a new laser. With our new state-of-the-art laser installed, we are able to increase laser production by 30% because fiber lasers cut stainless steel about 500% faster than our previous laser. This was a very exciting opportunity for AES this year.
Events
Each year we look forward to attending our two favorite battery trade shows: the International Battery Seminar and Exhibit and the Battery Show North America. They didn't disappoint in 2022.
International Battery Seminar & Exhibit | Orlando, FL | March 28-31
The International Battery Seminar & Exhibit is the longest-running battery event in the world. Several AES team members had the chance to share insights and advancements with international industry leaders in Orlando last spring.
In addition to showcasing ATPPRIME and ATPFLEX at the company's booth, AES's Applications and Mechanical Engineer Robert Laudisi presented on Increasing Success & Safety: Applying Lean Methodologies to Battery Testing. Laudisi outlined the concepts of '6S' and Lean Manufacturing and explained how AES incorporates both in designing industry-leading battery testing chambers and fixtures.
He plans on speaking again in Orlando next year.
Battery Show North America | Novi, MI | September 13-15
In September, AES team members attended the largest battery and electric vehicle technologies trade show in North America. This primetime event marked the debut of the SC-512-SAFE. After countless hours of innovation, this powerful battery test chamber, fitted with ATPHEAVY Adaptable and AESSAFE safety features, was ready for the public.

We were also able to showcase our new ATPPRIME patent, as well.
Here's to 2023!
It's been an exciting past 12 months for us at AES, and we appreciate you sharing the ride with us.
We look forward to the new challenges and chamber innovations sure to come in 2023.
Associated Environmental Systems has built, designed, and serviced industry-leading environmental test chambers for more than 60 years. Contact us today to learn more about our newest battery testing solutions or any other environmental chamber needs you may have.