Innovative Battery Testing Solutions At the International Battery Seminar & Exhibit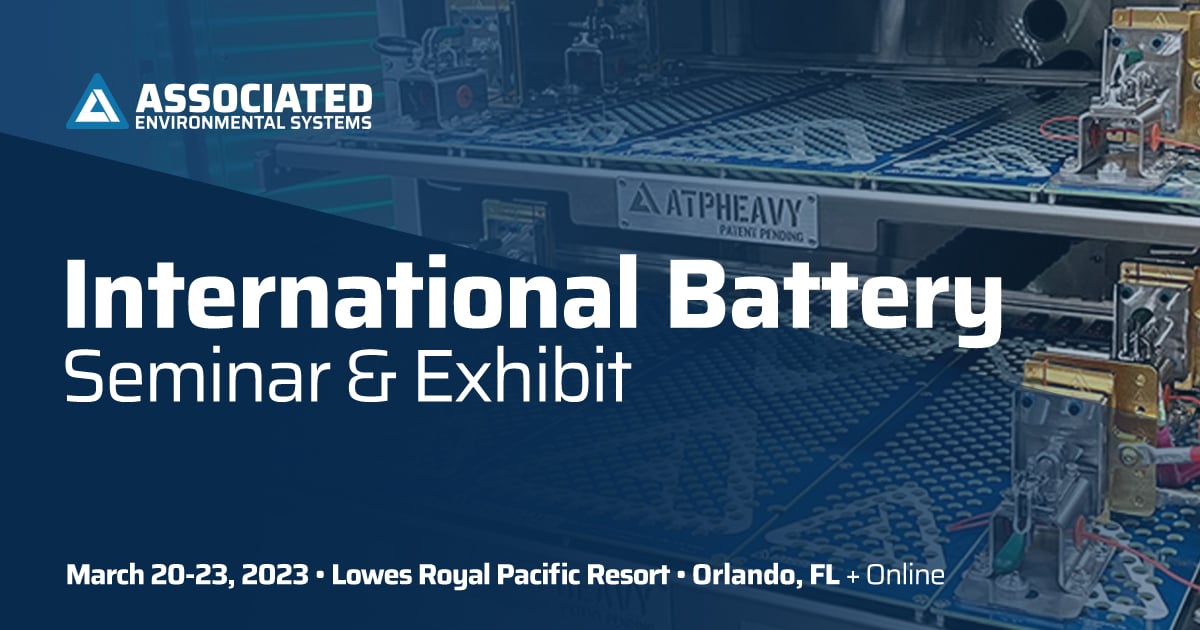 As a leader in designing and manufacturing environmental test chambers for aerospace, electronics, automotive, computers, and energy storage worldwide, Associated Environmental Systems (AES) understands both the big and small challenges of battery testing.
In part, most of our battery testing innovations have emerged from conversations with other industry experts. That's why we look forward to the International Battery Seminar & Exhibit every year. We had a fantastic time last year in Orlando, Florida, and are looking forward to returning this year from March 20-23.
We'll have on display our patented ATPRIME, patent-pending ATPHEAVY ADAPTABLE for testing high-density and large prismatic battery cell formats, and the SC-512-SAFE.
Stop by Booth 700 to chat and explore these innovative battery testing solutions.
Plus, Bob Laudisi will be presenting Increasing Success & Safety: Applying Lean Methodologies to Battery Testing on March 21st at 12pm on the battery safety track. He'll be discussing lean manufacturing principles and how they relate to high-density battery testing, safety, and optimization.
We get labs. We're excited to share our expertise and learn more about yours.
On Display with AES at International Battery Seminar
The longest-running annual battery event in the world, the 2023 International Battery Seminar will feature more than 1,600 battery technologists including manufacturers, OEMs, and other leaders from the entire battery industry.
AES has a proven track record in battery testing, and will be giving you the opportunity to explore patented ATPPRIME and patent-pending ATPHEAVY battery testing fixtures and SC-512-SAFE firsthand.
The SC-512-SAFE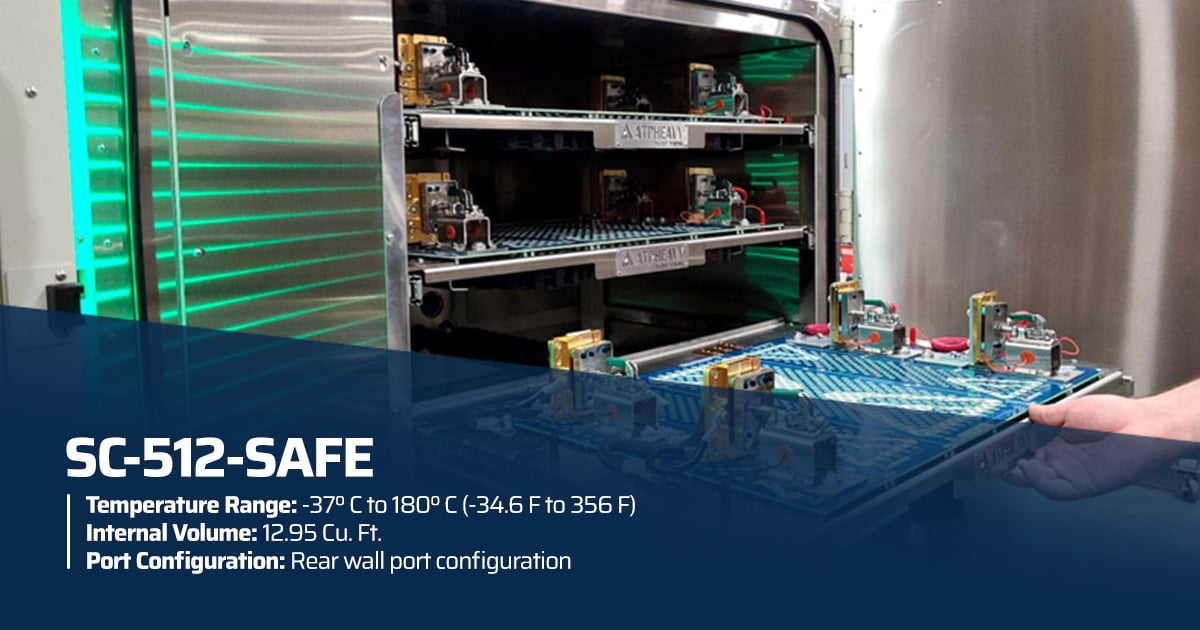 If you're already familiar with the Super 508, then it's easy to see why the SC-512 series is often referred to as its "big brother." Designed specifically to accommodate testing for high-density battery cells, this stackable benchtop environmental test chamber can optimize your lab's footprint by facilitating small-batch testing across multiple units.
It's no secret that electric vehicle manufacturers are demanding faster-charging, longer-lasting, and lighter-weight batteries, however, advancements in battery technology can only move as quickly as battery technology develops.
AES created the SC-512-SAFE to accommodate the shift from cylindrical battery cells in EVs (and other industries) to large pouch and prismatic cells—battery formats that are light, fast-charging, and have a high energy density.
Coupled with ATPHEAVY ADAPTABLE (read more below), the SC-512-SAFE provides several pioneering advantages for battery testing:
Maximize lab space. Spread small batches across multiple chambers rather than one large one (learn more about how lean manufacturing principles impact battery chamber design).
Sliding shelves facilitate easy change of battery cells outside the chamber workspace.
A proprietary baffle and fan design optimizes air circulation within the chamber.
Fully equipped with battery safety features (an emergency stop button, rapid temperature change, door lock, etc.) to keep your products, lab equipment, and lab personnel safety in mind.

Patented ATPPRIME
Patented in September 2022, AES's ATPPRIME is the only battery testing fixture series in the industry, so you won't want to miss it. This uncompromising fixture series is capable of testing nearly every cell format, including prismatic, cylindrical, coin, pack, and pouch batteries.
Universal kelvin connectors provide for easy removal, insertion, and switching between format types. On top of that, ATPPRIME has an IGUS track that helps keep cables and wires organized as shelves move in and out. You can load cells across four durable shelves manufactured to optimize airflow and steady temperatures.
ATPPRIME is built to save your lab time and money, because we get that budgets are often as tight as a double silicone, rubber seal door.

ATPHEAVY ADAPTABLE
An innovative development in battery testing, ATPHEAVY ADAPTABLE is an adjustable high-amperage battery fixture that accommodates a wide range of battery types and cell formats—all within the controlled workspace of a robust test chamber.
Some of ATPHEAVY ADAPTABLE's features include:
A flexible board that integrates with most battery types and formats
Ability to combine wires for 500 amps instead of 250 amps
Adaptable terminals so you can fit batteries of all sizes and shapes
Sliding shelves that make handling devices under testing easier and safer than other battery testing alternatives
Increasing Success & Safety: Applying Lean Methodologies to Battery Testing
Does your lab integrate lean manufacturing principles into its design?
AES Applications & Mechanical Engineer Robert Laudisi will explain how lean manufacturing principles inform the work we do at AES and lead you to safer, more efficient high-amperage battery testing.
Join us for his presentation: Increasing Success & Safety: Applying Lean Methodologies to Battery Testing. He'll discuss:
Lean aspects of testing lower amp hour and higher amp hour cells
Challenges with higher amperage cells (thermal events, etc.)
Big batch vs small batch testing
Which solutions are in place to help your lab battery test
If you can't make it to Bob's presentation, then be sure to stop by booth 700 to talk with him and our other AES team experts. We're continuously listening to and experimenting with customer thoughts and feedback. It's central to what we do at AES.
We'll see you there.
As a leader in designing and manufacturing temperature and humidity test chambers for some of the most innovative products you hold in your hand, drive down the road, and other things we can't divulge, Associated Environmental Systems gets it. Contact us today to learn more about which battery testing solutions are right for your lab.