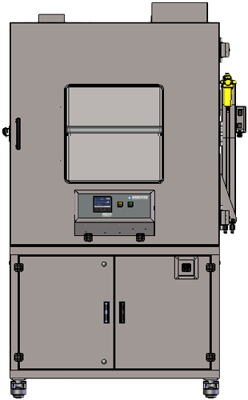 FD-580-7.5
Floor
FD-580 Models are available in multiple performance levels giving you the rise and pull-down rates you need to meet test requirements and manage live load testing. Built on swivel brake casters, this floor-style environmental test chamber with temperature and humidity functionality still offers flexibility in your lab space or on the production floor.
All large floor models, over 13 cubic feet, are available with escalating performance speeds, for more rate information see specifications below.
STRUCTURE. The exterior cabinet design is an engineered sheet metal frame that is precision laser cut and formed with powder coat bone color and matte finish.
The internal workspace walls are type 304 stainless steel for vapor-tight internal construction. The exterior has a durable powder-coat finish over heavy-gauge steel for a long-lasting clean look. And between the two layers, you'll find highly efficient, low k-factor thermal insulation. This chamber is built to last for many years.
CIRCULATION SYSTEM. Air circulation is crucial for environmental testing. The airflow system has a proprietary baffle/fan design combination to optimize temperature and humidity conditions within the workspace. Air flows into a plenum behind the back wall of the internal workspace for conditioning to the required setpoint. Pushed by large stainless steel blower wheels, air enters the workspace through a four-inch area at the top of the workspace's back wall. A directional baffle forces the conditioned air across the ceiling toward the front door, redirecting and dispersing the airflow throughout the workspace. An intake vent on the workspace floor along the back wall returns air to the plenum for reconditioning to the precise temperature and humidity.
Variable-speed airflow control is included allowing you to adjust airflow to meet your test requirements and reduce noise.
HEATING SYSTEM. FD test chambers feature heating systems equipped with several finned nichrome sheath bars that operate independently within the plenum for reliable and accurate temperature control within ±0.5°C.
COOLING SYSTEM. The cooling system consists of a self-contained mechanical refrigeration system with a cascade configuration. Performance and efficiency are balanced with Thrust and Impulse models with standard air-cooled, while water-cooled is standard for Warp and Hyperdrive models. Both can be ordered with air or water-cooled options to accommodate your facility's services.
Add boost cooling with liquid GN2 or CO2 for even faster pull-down rates. It's a great option for stress tests that require rapid cooling. Even without boost cooling, AES standard cascade refrigeration systems have the fastest standard change rates of any environmental test chamber manufacturer. See the Basic Specifications tab below.
INSTRUMENTATION. FD Series Test Chambers have incorporated AESONE CONNECT, creating a robust connected device for a standard and uniform interface, making monitoring and operating easier. See the Instrumentation Tab below for more details.
Contact us for quote

Specifications
Standard Features
Instrumentation
Safety Features
Optional Features
Specifications
Interior:
48W x 60D x 48H (in)
1219.1W x 1524D x 1219.1H (mm)
Exterior:
61W x 104D x 94H (in)
1549.4W x 2641.6D x 2387.6H (mm)
Volume:
80 cubic ft
2265.34 liters
Temperature:
-40°C to

180°C (

-37°F to 356°F)
Humidity Fluctuation:
±2% RH at sensor
Rise Rate*:
4.5°C/min
Pull Down Rate*:
4°C/min
Electrical Supply:
480 VAC, 3 PH, 60 HZ
Power Requirement:
Hardwired
Refrigeration System:
Single stage
Approximate Product Weight:
3920 lbs (1778 kg) without added options
Approximate Shipping Weight:
4030 lbs (1828 kg) without added options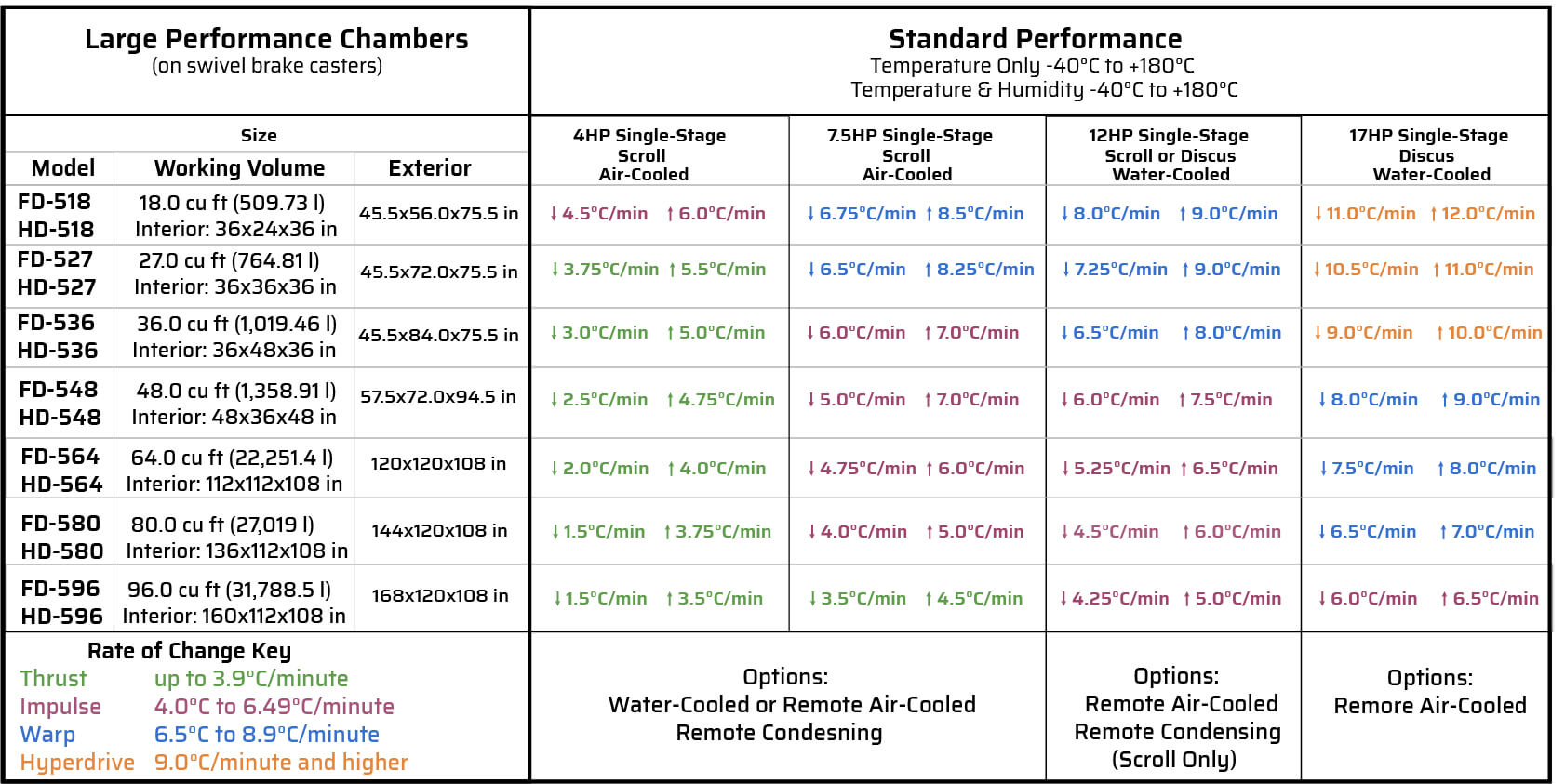 *Rise and pull-down rates calculated using IEC 60068-3-5 standard. Custom options available.
Standard Features
STANDARD FEATURES
Temperature range: -40°C to 180°C (-40°F to 356°F)
Exterior structure is engineered sheet metal frame is precision laser cut and formed with powder coat bone color and matte finish
Interior cabinet is stainless steel, type 304
Interior light with exterior switch on cabinet face and AESONE CONNECT
Door mount controls
Electrical component cabinet is easily accessible via the front face with under door access
Exceptionally small clearance requirements, 12 inches in the back and 8 inches on each side
Compressor intake is front facing with outtake being expelled on left, right, and back sides (air-cooled chambers may require additional clearance based on the facility's HVAC system recovery speed)
Forced air circulation
Finned independent nichrome sheath heaters for even heating of conditioned air in the plenum offer fast changing heating and cooling rates
Powerful custom-designed stainless steel blower wheels
Port configuration: left and right wall access port and plug with 6 inch (152.4 mm) diameter
Fully-adjustable shelf, one wire-grid, stainless steel shelf
Full opening door with adjustable manual door latch
Swivel brake casters
Multipane heated 36 x 48 inch viewing window
Instrumentation
STANDARD INSTRUMENTATION
CONTROLLER
FD Series Test Chambers have incorporated AESONE CONNECT creating a robust connected device for a standard and uniform interface making test chamber operation easier.
AESONE XCHANGE is hardware internal to the chamber that increases your functionality
Connects the test chamber controller to your network for increased accessibility
On-board multi-year data logging
AESONE SOFTWARE gives you the power to
Remote chamber operation and monitoring,
Web-based test profile creation,
Viewing current data and historical data visually
Secure multi-level user access
ADDITIONAL ONBOARD INSTRUMENTATION
WATLOW F4T PROGRAMMABLE CONTROLLER. Features a 4.3" capacitive touchscreen minimizing the chance for error and the low voltage PLC is touch-safe. Ethernet communication supported by AESONE HARDWARE. View more controller options
AIRFLOW. Variable frequency drive allows you to lower air velocity to meet your test requirements and reduce noise.
SENSORS.
TEMPERATURE SENSOR. Measured at the point of airflow entering the workspace. Class A, 3-wire, 100 Ohm Platinum RTD sensor
RELATIVE HUMIDITY SENSOR. Measured at the point of airflow entering the workspace. Speed of airflow does not affect measurement. Sensor is highly accurate between 10-95% RH, over the entire temperature operating range of -40°C to +180°C (-40°F to +356°F)
OPTIONAL DATA LOGGERS. View additional data loggers
Safety Features
STANDARD SAFETY FEATURES
HIGH/LOW TEMPERATURE CONTROL. An adjustable temperature limit controller allows you to program the highest lowest temperature the device under test, protecting products from compromising temperature exposure.
Internal high-temperature limit safety
Refrigeration system over-pressure safety circuit
TUV Rheinland certified meeting UL 508A, US, C, E
Optional Features
Shelf Modification
Custom Porting Sizes
Custom window size
Noise Reduction Package
LN2 Boost Cool
CO2 Boost Cool
Desiccant Air Dryer to ensure conditions as low as 5% RH
Dry Nitrogen Purge to keep condensation and frost from accumulating on DUT surfaces at cold temperatures and to prevent oxidation of metals surfaces at high temperatures